SWATH Silver Cloud: From Concept to the Conclusion of Our 19 Month Maiden Cruise Odyssey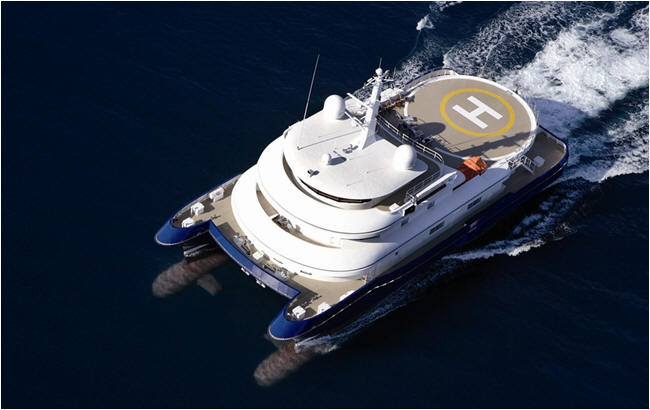 For this talk to make sense, you need to know a little bit about me.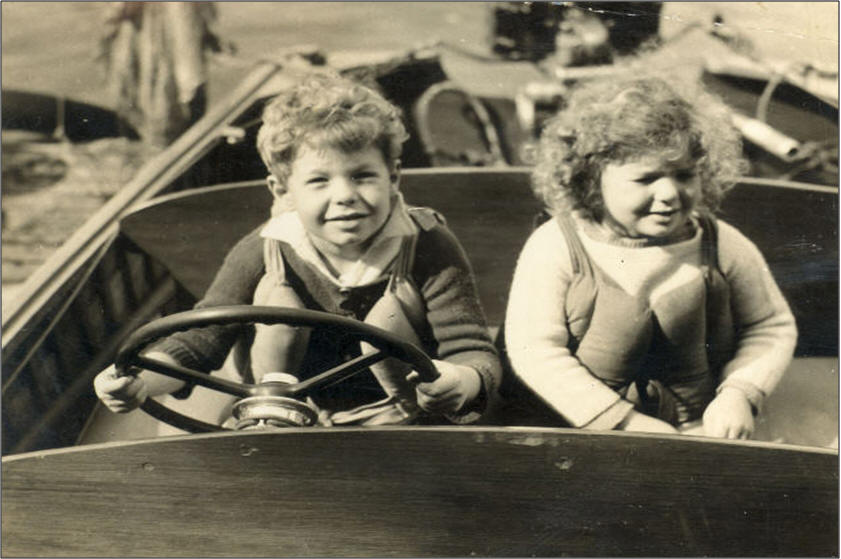 I've loved boats since I was a child. My early experience with ocean going vessels was as a navigator on racing sailing yachts.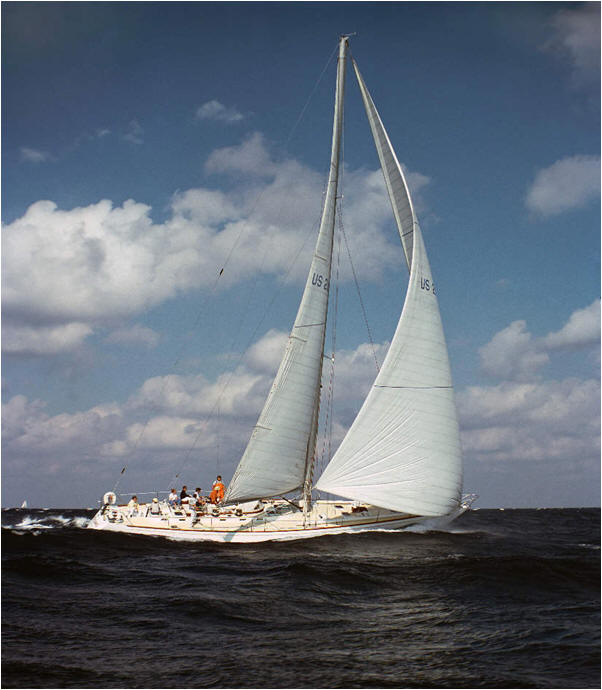 This is a 1970's picture of Llwyd Ecclestone's (Herman) designed "Volcano". I found that early in the Florida winter racing season I would be seasick if I spent prolonged time at the navigator's station. By the end of the season I could handle anything, but it wore off during the calm summer racing months and the malady reared its ugly head when winter racing started again. I mention it here to state firmly, for those of you without the susceptibility, that seasickness is not a pleasant experience.

My first awakening to the prevalence of people who are more susceptible to sea sickness than I am, occurred in the late 1970's when, as a divorced bachelor living right here in Palm Beach, I acquired my first significant boat, 'Prime Time',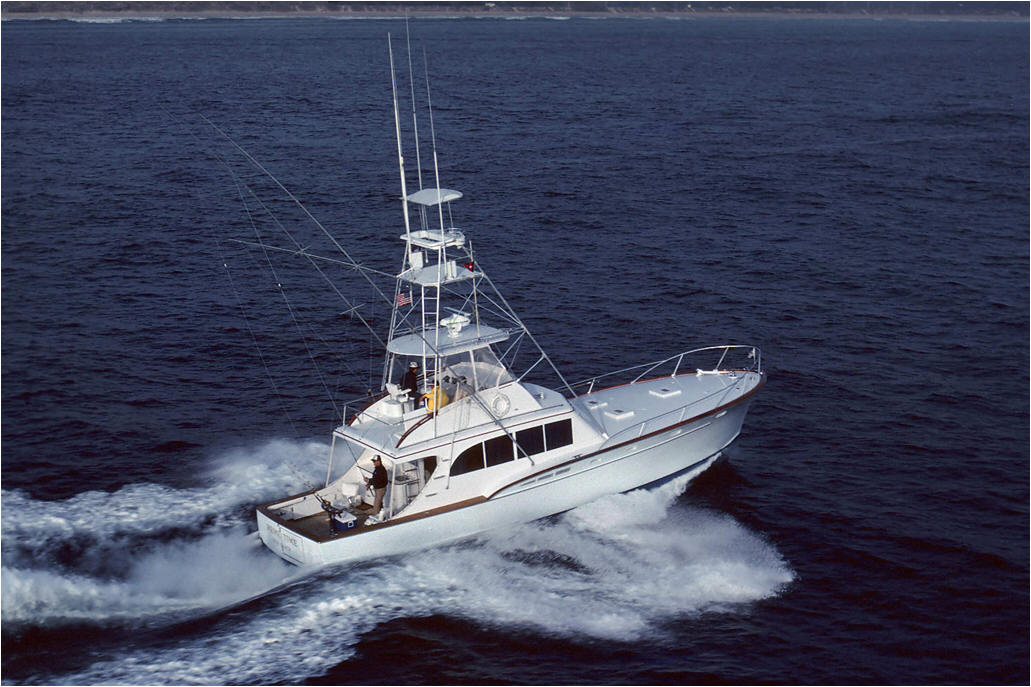 a 14 year old, classic, 1963, 51 foot, Rybovich sport fishing boat. Friends had been entertaining me at their homes for several years, at a time when I had no way to reciprocate except by inviting them to my Yacht Club or a restaurant. My Captain, at that time, was a good cook and as freshly caught Mahi-Mahi made for a wonderful meal, I thought I would invite my friends for dinner aboard. Believing that my friends who had their own sport fishing boats would not be particularly interested in being aboard my boat, I initially invited friends who didn't have boats. Surprisingly, what I learned was that people living near the sea coast, who can afford a boat, but don't have a boat, very often suffer from a high susceptibility to sea sickness. I had comments like: "I would get seasick as soon as you cast off" and "You'd feed me and soon I'd be feeding the fish."

Many years later, when I married Renate, the love of my life, I knew she had the malady – she had told me that as a child she would get sick riding a trolley car. Now, that is high susceptibility! But Renate is a good sport and we spent a great deal of time on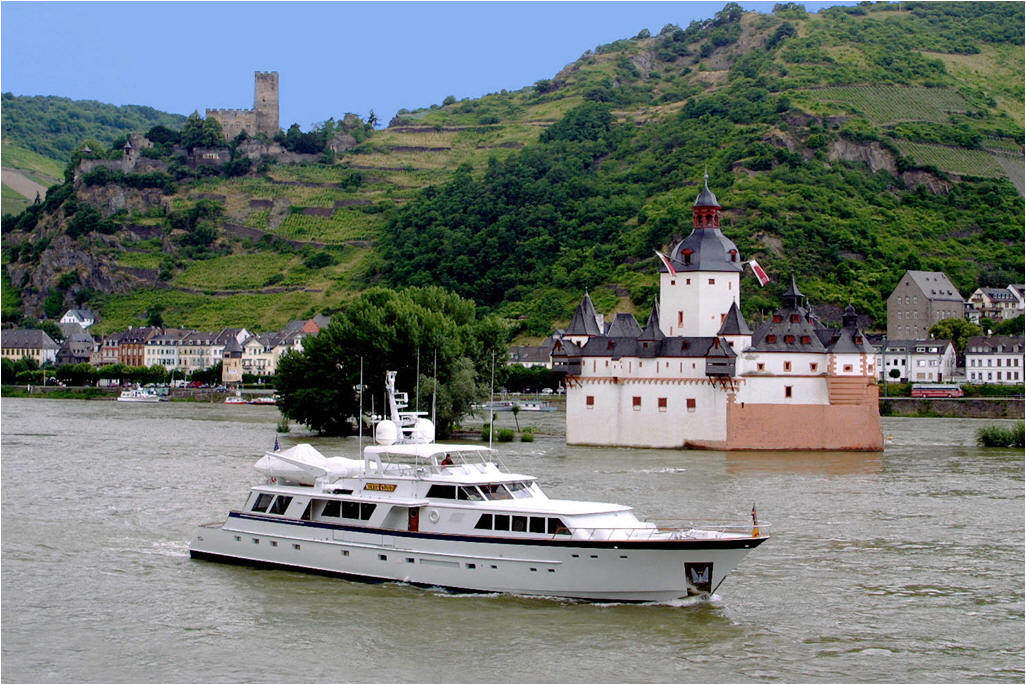 our 115 foot Burger 'Silver Cloud' in the Bahamas, the Caribbean, the Med, on the Rhine and Danube Rivers, and later on a trip to St. Petersburg, Russia, with several calls at the major ports in Scandinavia. The next summer we cruised the Inland Waterway between Seattle and Glacier Bay, Alaska. While during these years we left most passage making to the crew, we would inevitably be caught in a Mediterranean mistral, the Caribbean Christmas Winds or some other rough sea, a few times each year.

During my past experiences of getting seasick navigating sailboats, I would snap back to feeling fine as soon as the boat entered a harbor. Renate, on the other hand, feels poorly for a day or two after a rough sea encounter.

Having generally accepted the belief that 'bigger was better',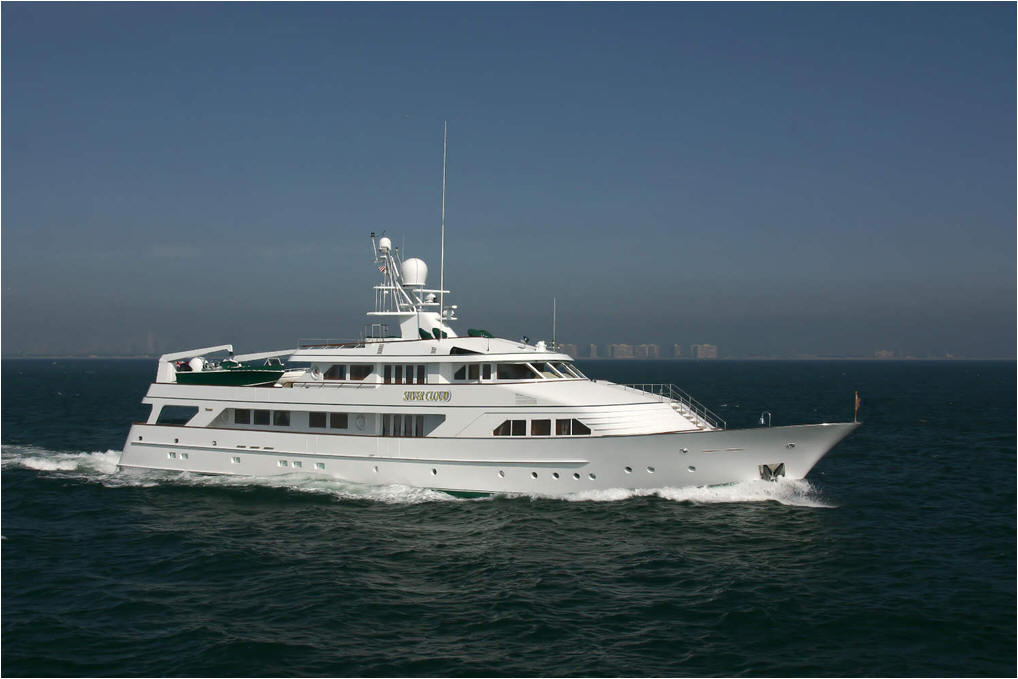 we traded the Burger for the 16 year oldie-but-beautiful (1986) 143 foot, Feadship 'Silver Cloud'. She was formerly 'Cakewalk' and then Greg Norman's 'Aussie Rules'. We rationalized that we would justify the difference in capital and operating costs by chartering.

Unfortunately we found that in similar seas the motions of the Feadship affected Renate even more than the motions of the smaller Burger. I have a theory about it but haven't tried to prove it.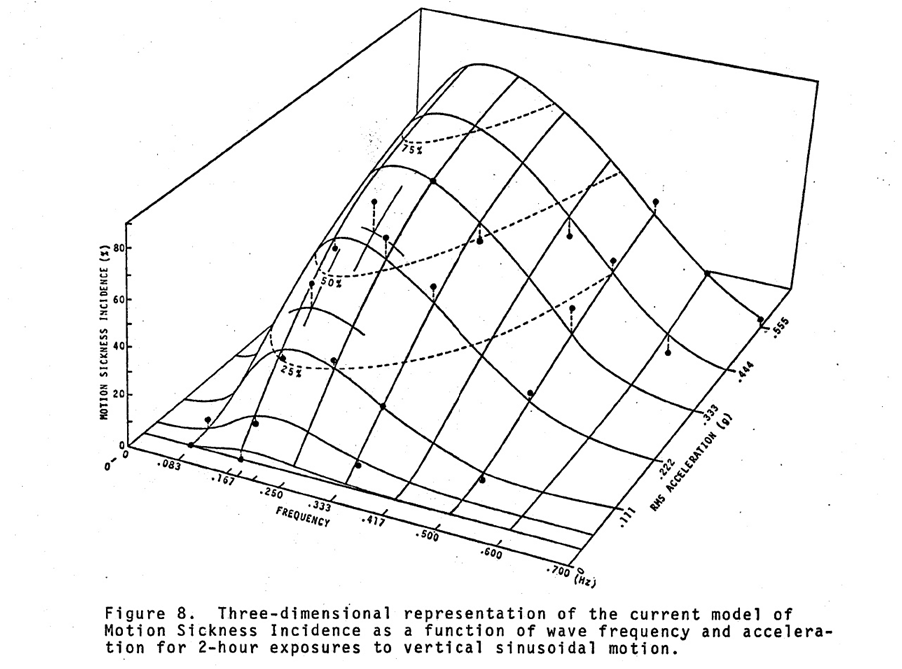 This is navy researcher Michael McCauley's graph resulting from paying college students to sit on a chair, on a platform, that, as shown on the horizontal axis, could rise and fall at variable frequencies, and, as shown on the axis moving to the rear, varying amplitudes,. The vertical axis, nicknamed by some as the barf axis, is the % of chair riders who became sick after being on the chair for 2 hours.
My theory is that the natural period of the Burger was to the right of the roughly 6 second human peak sensitivity, and the Feadship perhaps close to the peak. The SWATH's natural period is significantly to the left.
My Captain, Steve Martin, had observed that on a typical charter, when there were 10 guests on board, 2 or 3 guests would be laid low in relatively mild sea conditions. As a result the Feadship didn't travel much during charters, but was used more or less as a hotel/cocktail lounge; a trait we had frequently observed was the practice of most yachts, where the crew moved the boat and the owners then flew in.
By late 2004, these observations and experiences triggered my interest in finding a better solution to sea sickness than: 'bigger is better'. I started by exploring nontraditional designs: catamarans, trimarans, jet drive fast ferries and hydrofoils. I wrote to some of the yards that were building them. One Australian shipyard owner suggested I explore a SWATH design. (SWATH stands for: Small Waterplane Area Twin Hull). That was the first time I had learned of that word applied to a type of boat. Through further study and a Google search I learned that the basic concept for the SWATH design dates back to at least the 1930's. The difficulty of achieving both thin struts (i.e. a Small Waterplane Area) and high strength and then having to live with the resulting nontraditional look had not led to anyone opting for a SWATH yacht. The search led Renate and me to visit 3 shipyards that had designed or built SWATH commercial vessels. They were being used as pilot boats, dive boats, research vessels, ferry boats, a dinner cruise boat in Hawaii and boats to service oil rigs and wind generators in the North Sea. That soon led to us taking rides on three SWATH boats.
Abeking and Rasmussen provided this video of their 82 foot pilot boat, in the background, running in the same sea as a 164 foot German coast guard vessel in the foreground. Quite impressive, I think! It soon became very clear that A&R had the most well developed and sophisticated technology. Incidentally, I would like to do a similar video with 'Silver Cloud' and a significantly larger recently delivered yacht, but so far we have had no takers.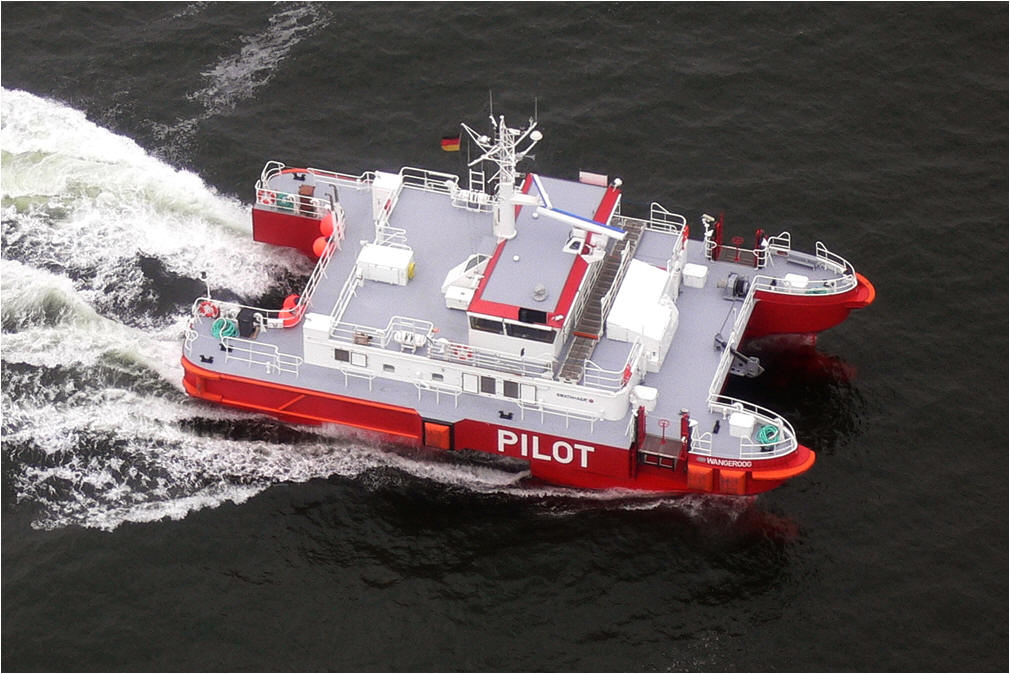 On a day in June 2005 in the North Sea on an 82 foot A&R built pilot boat, identical to the one in the video, in sea conditions that would have had Renate seasick had we been on the Feadship, she was reading and knitting as my Captain and I were learning as much as we could about this unusual technology. Renate and I became convinced that the SWATH design was the answer we had been looking for. By March 2006, we had nailed down the design and specifications and went to contract. It was to be the world's first significant SWATH yacht. The new Silver Cloud would be 134 foot LOA with a beam of 58 feet and a draft of 13 and a half feet.
Silver Cloud has not been out of the water since her July 2008 launch.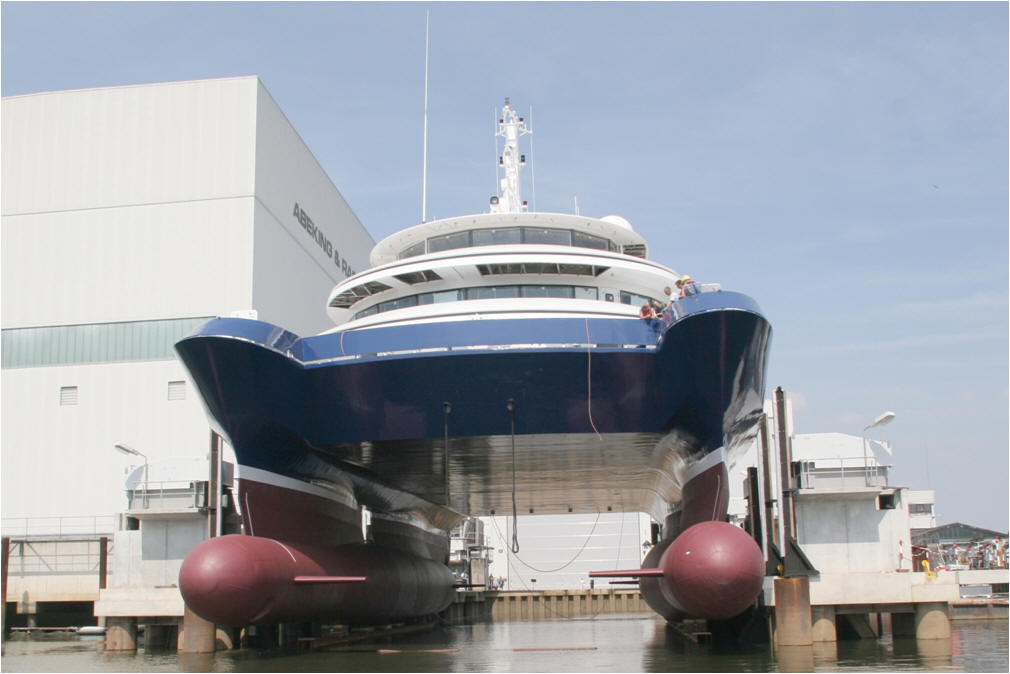 This image, taken the day she was launched, clearly shows the 'Small Waterplane Area' and 'Twin Hulls'. The cross sectional area of the struts is 1/6th that of a conventional mono hull (or a catamaran's double hulls), with 5/6ths of the displacement in the submerged twin hulls riding in calm water. All scuba divers, and submariners, know that you only need to be a few feet underwater to avoid being bounced around as one is on the surface. Floating oil rig platforms are stable for the same reason. Most displacement is underwater with minimal diameter support columns protruding the water surface. In this photo you can see the four large, individually computer controlled, stabilizer fins, facing inboard. The stabilizers bring the inherent 6 to 1 improvement to about 10 to 1.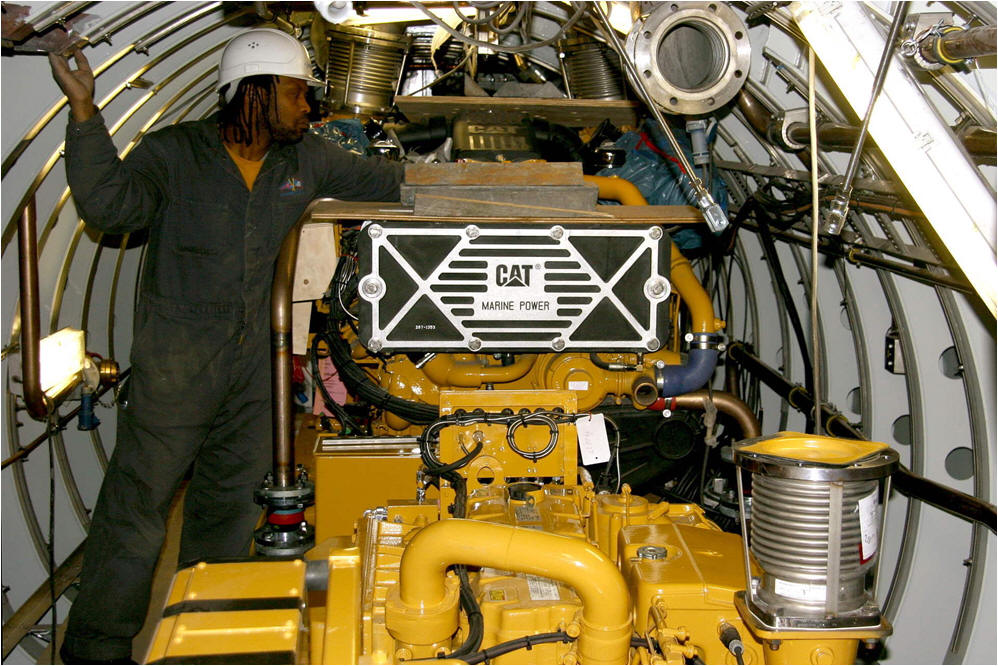 Fresh water tanks, fuel tanks, engines, generators, water makers, waste treatment facilities and air conditioning compressors, are all in the lower hulls; providing Silver Cloud with low noise and vibration, without having to resort to room-within-a-room construction.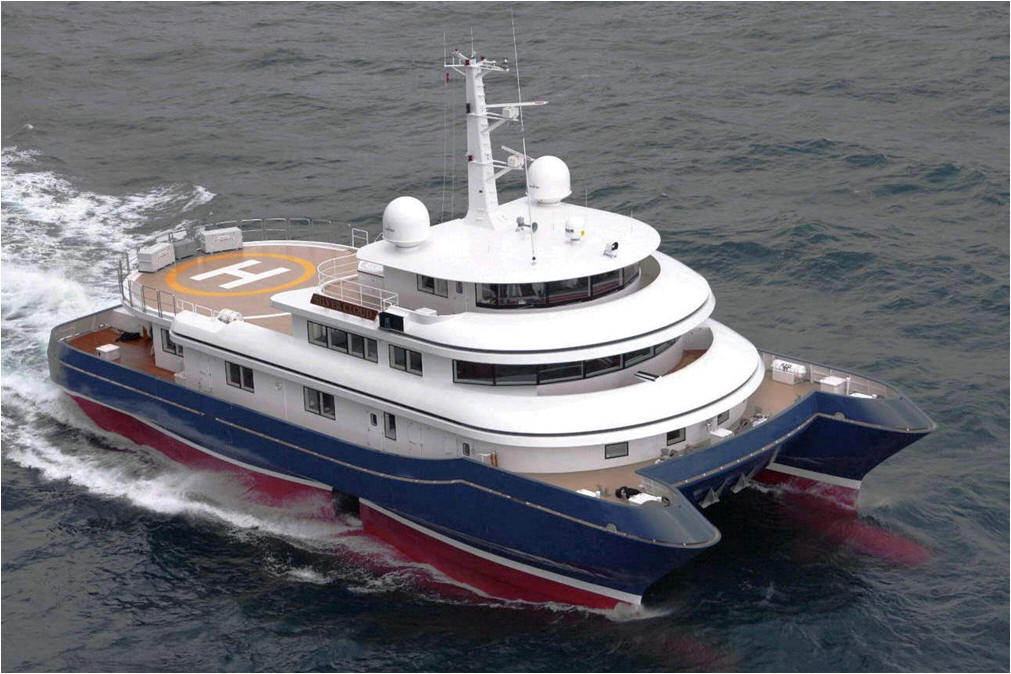 In August 2008 we began sea trials in the North Sea. We were fortunate in finding some 6 to 7 foot seas, as at this time of year calm seas generally prevail. It very quickly became clear that Silver Cloud met all of her specifications and that we had made the right decision in commissioning A&R to build our SWATH.
We began our passage to Palm Beach on a very relaxed schedule in October 2008 with built-in slack for any problems that might arise, as this was, in reality, our shakedown cruise. We had a variety of friends aboard on every leg. Our chosen route was from the A&R shipyard, north of Bremen, Germany, on the (Veyser) Weser River, to the North Sea, then west through the English Channel, turning south in the Atlantic Ocean, across the Bay of Biscay, through the Straits of Gibraltar to the British port of Gibraltar with its low cost fuel. We then headed south west to the Canary Islands and then on to St Thomas, in the US Virgin Islands.
With all guest suites full, we made passage from St Thomas to Palm Beach.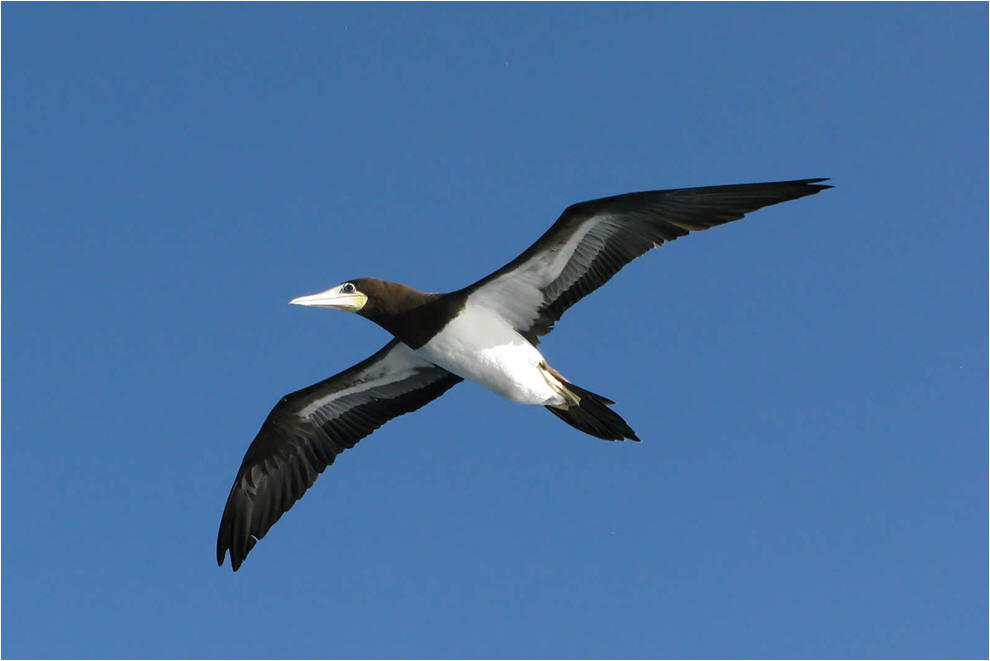 During the passages we experienced a good cross section of the seas we might expect to encounter over time. In the North Sea there were 6 to 10 foot quartering, short period seas. Coming across the Bay of Biscay, the periods were longer and included swells. On some days we cruised in calm water with only mild swells, with the wind behind us, and on other days we endured beam, quartering and head seas of 10 to 16 foot, with occasional 20 to 23 foot rogue waves.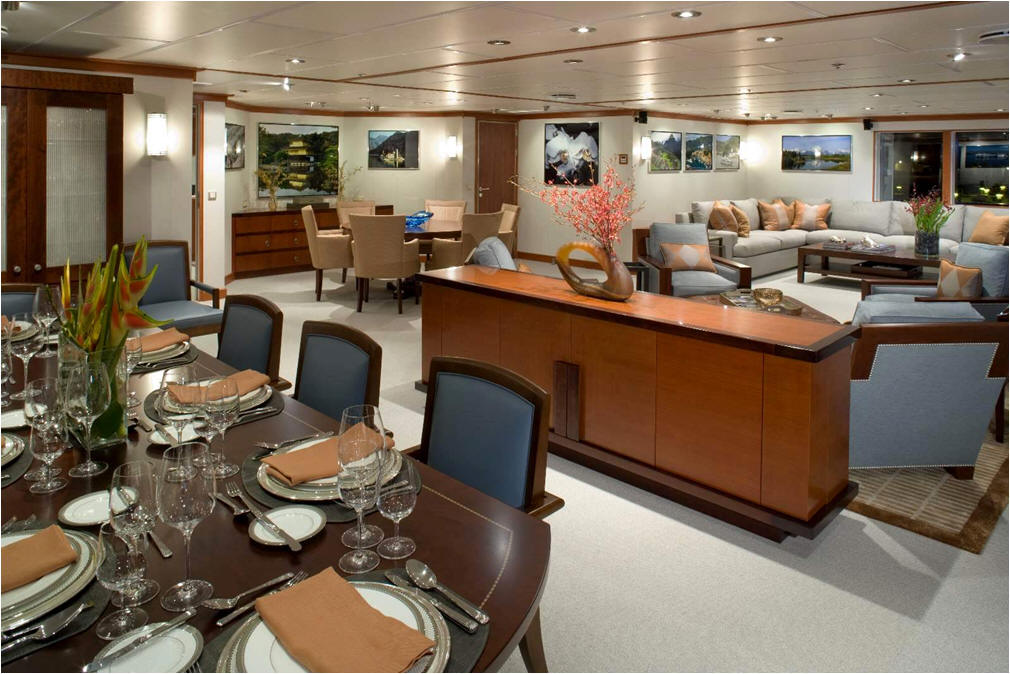 Silver Cloud's broad beam permits a very spacious main salon. Its long dimension runs port to starboard. All meals were served at one of our two dining tables and at no time was stemware upset. Vases remained in place most of the time, being set on the floor only when seas were forecast such that they might include rogue waves. (Note the vase on the sideboard; it is not secured in any way).
The boat has quite a remarkable ride. On a couple of the roughest days Renate was uncomfortable, but never sick. None of our guests were seasick.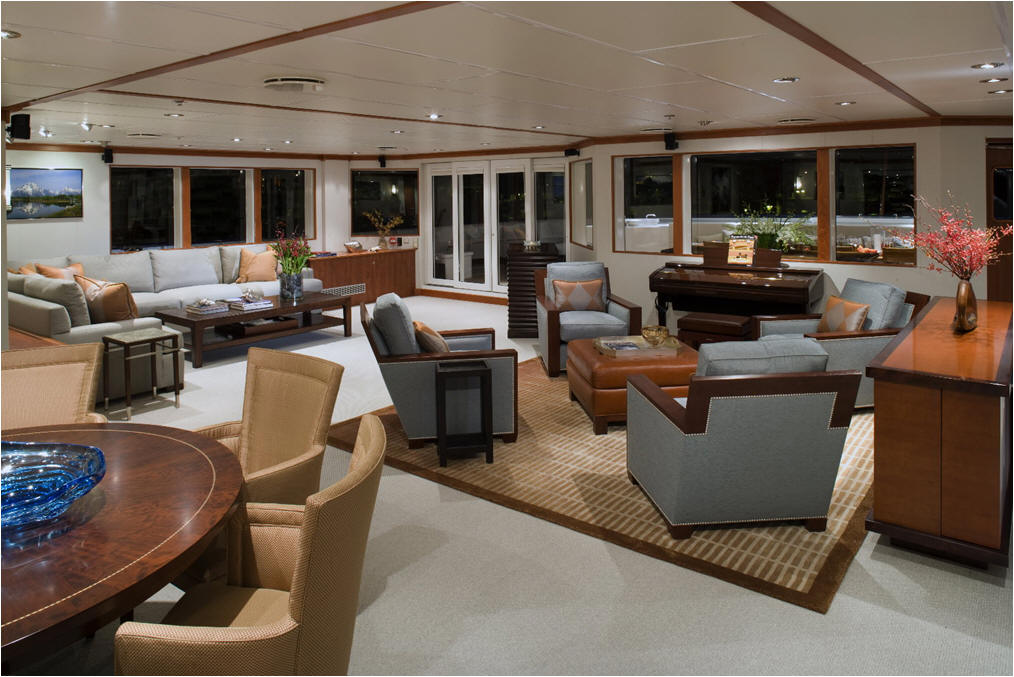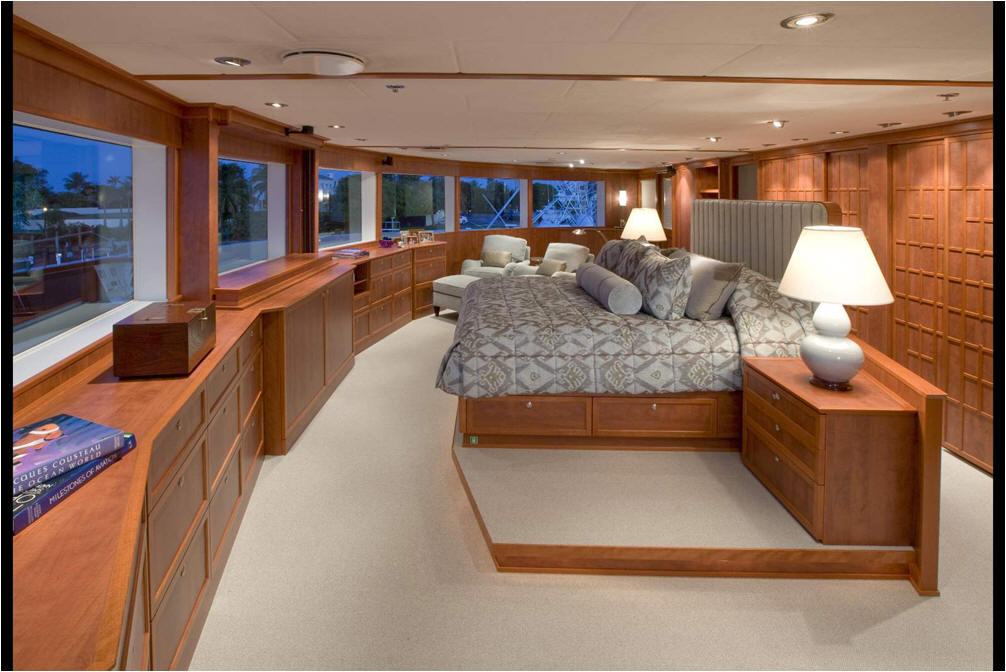 The full beam Master Suite on the Upper Deck, with its 180 degree view forward, is to die for. As Silver Cloud spends a relatively large percentage of its time at sea with continuously changing scenery, the view is much more interesting than the day to day view one gets in a marina. My experience has been that looking forward is the most exciting view. We placed the bed on a platform so that one can see the horizon while lying in bed.
The privacy the Upper Deck provides us is wonderful. We have separate heads, Renate's being quite spacious. I have a separate study/office. There is an exercise room and pantry.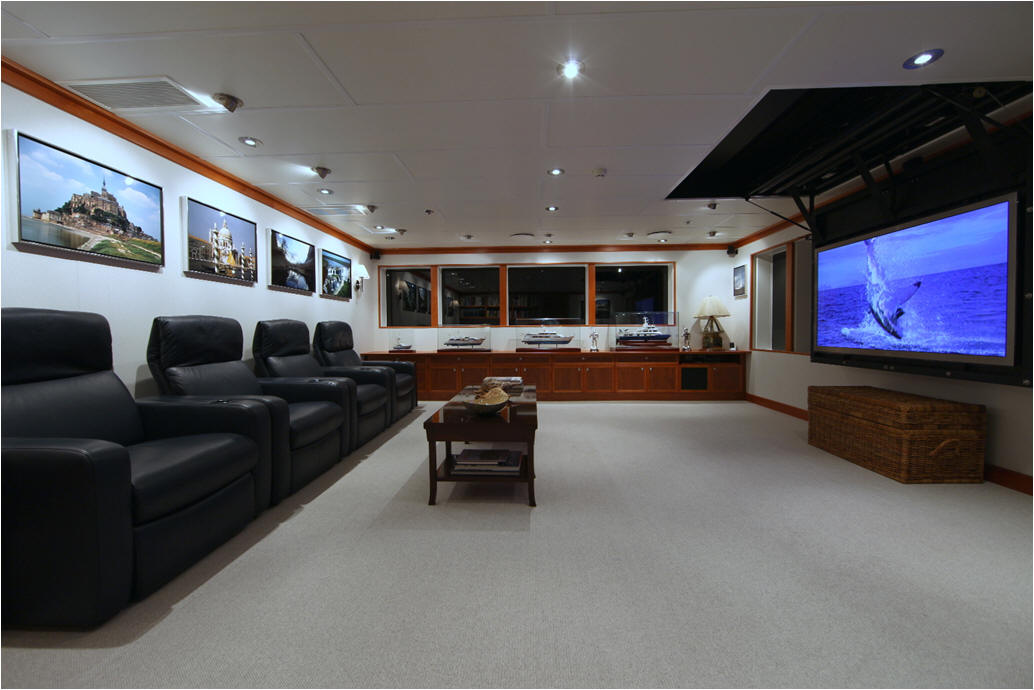 We do invite guests to our spacious sky lounge with its 65 inch LED monitor, which deploys from the ceiling, and 4 large power reclining chairs. The chairs are so comfortable that many guests fall asleep before the movie is over.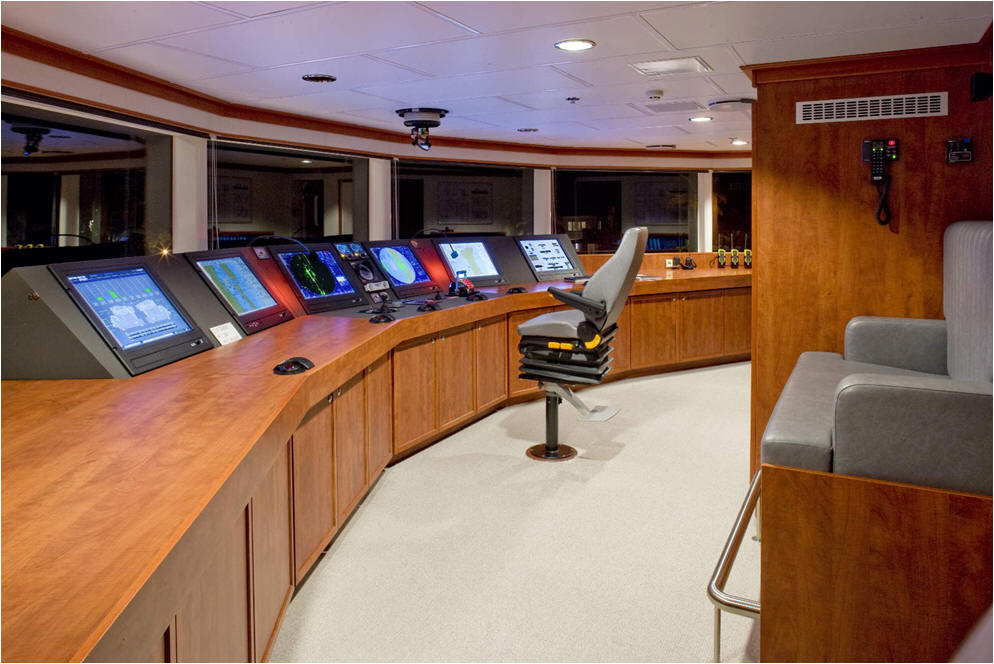 The Pilot House, the deck above the Owner's Suite, also has 180 degrees of windows. Also on the deck are wing stations, the Captains Suite and a large Jacuzzi.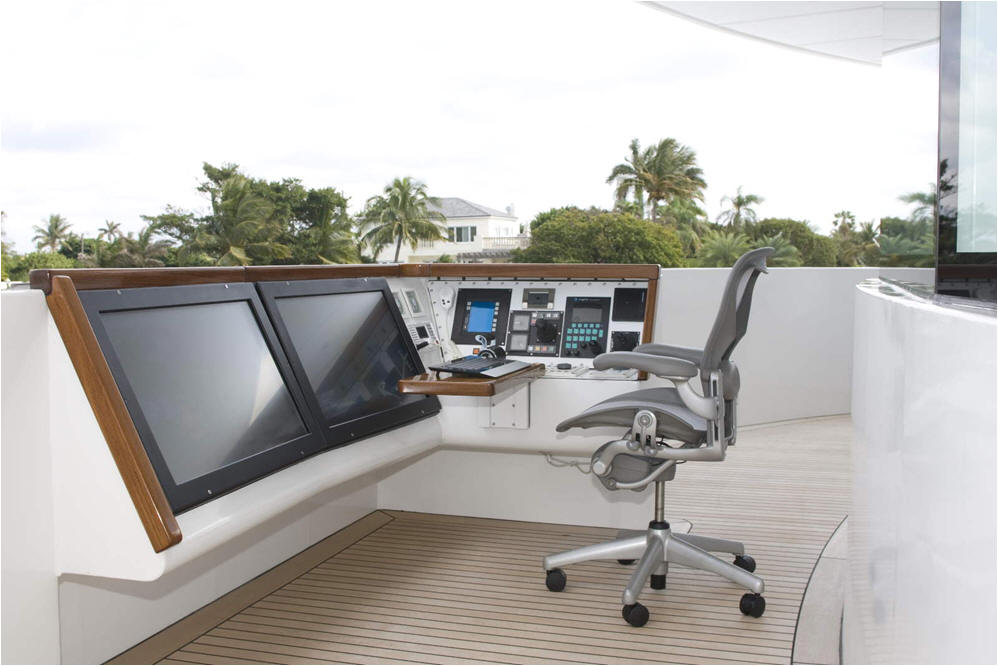 On the private deck forward of the Owner's Suite is a fully equipped navigation station capable of fully controlling the boat as well as remote displaying any display from the bridge.
I have an arrangement with my Captain: When the weather is nice it's my boat, when it's inclement, it's his boat.
Using a Bluetooth keyboard and mouse one of the monitors can be a computer monitor or the monitors can display Current Corporation's multi capable mast cameras: thermal imager, extremely high sensitivity black and white camera or 10x optical zoom high definition color camera. The station, with multiple chairs, can also be an entertainment center, viewing satellite TV or DVD's.
The crew loves the very generous size crew mess, crew quarters, galley and pantry, all located forward on the main deck.
There is a great deal of storage space in the tweendeck space (the space below the main deck), accessed through hatches in the bow, galley and crew mess. In addition to supplies and spares, there is space for storing our clothing and personal effects when Silver Cloud is on charter.
After hosting a week of parties aboard in Palm Beach (with a tent on the helideck), we spent the 2008 Christmas holiday week very comfortably on the hook, scuba diving in the Bahamas with kids and grandkids aboard.
While the 13 and a half to 11 and a half foot draft keeps us out of some locations and some harbors, Silver Cloud's SWATH stability makes for comfortable anchoring without breakwater protection.
In early 2009 we headed for the Panama Canal and then to Cabo San Lucas.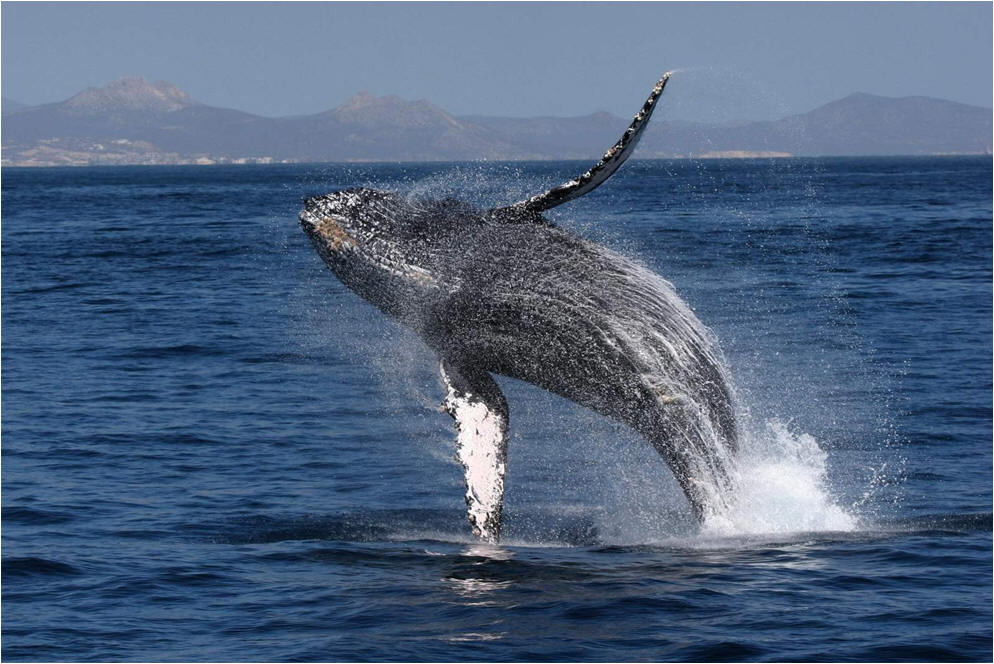 The whale watching was spectacular. (Because of the swine flu epidemic, we were advised to avoid the Mexican mainland.)
We hosted parties in San Diego, San Francisco and Seattle;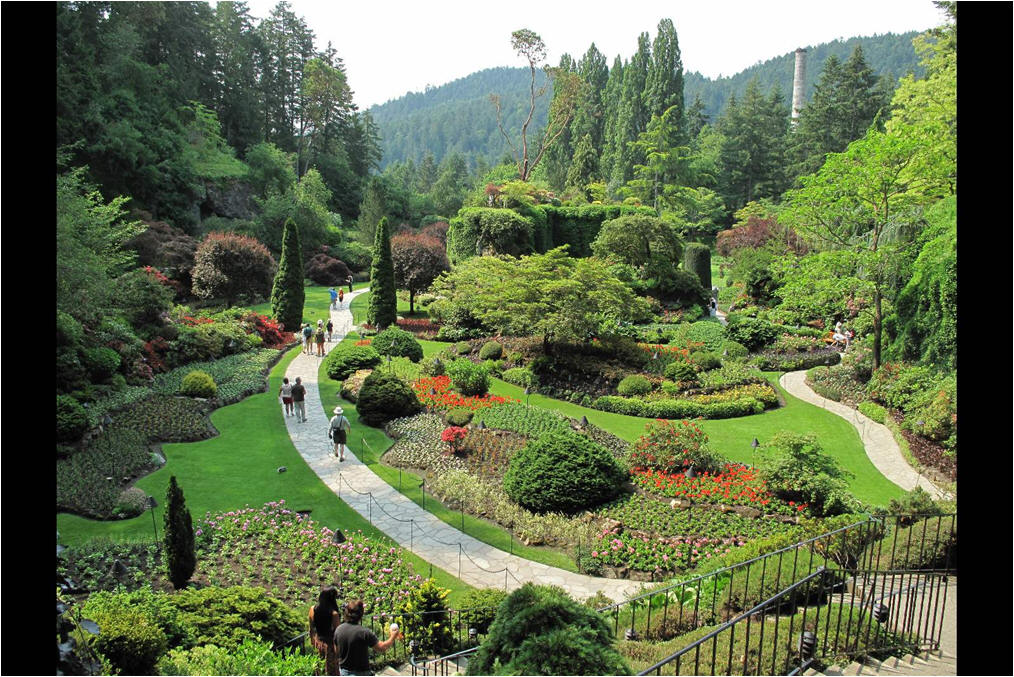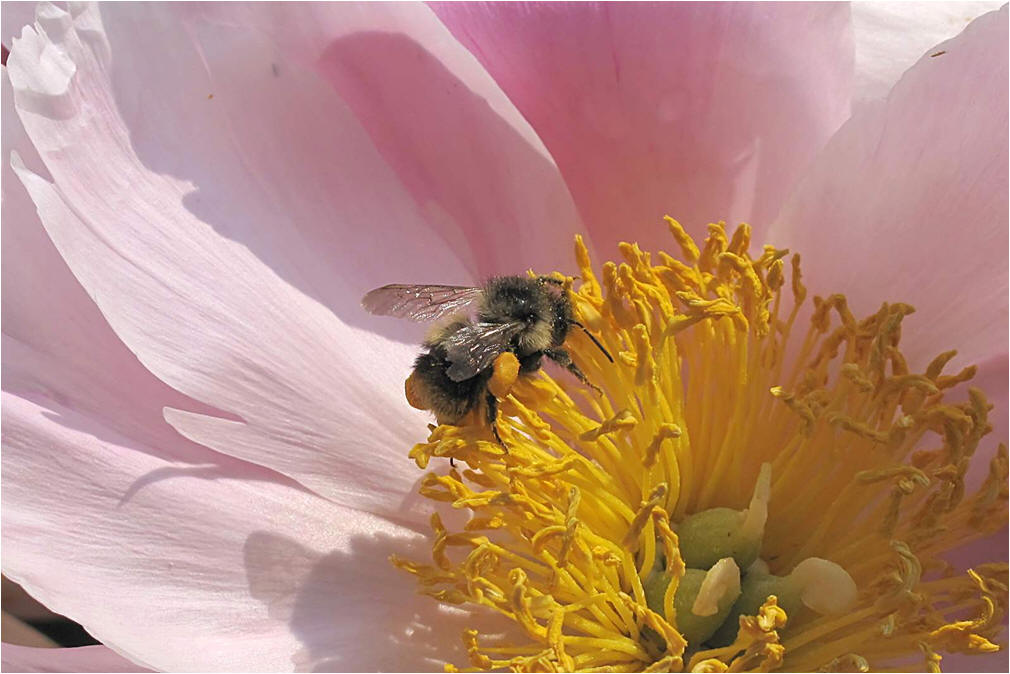 and then stopped in Victoria, on Vancouver Island, to see the beautiful Butchart Gardens. After a stop in Vancouver, BC, we headed up Canada's inland waterway to Alaska.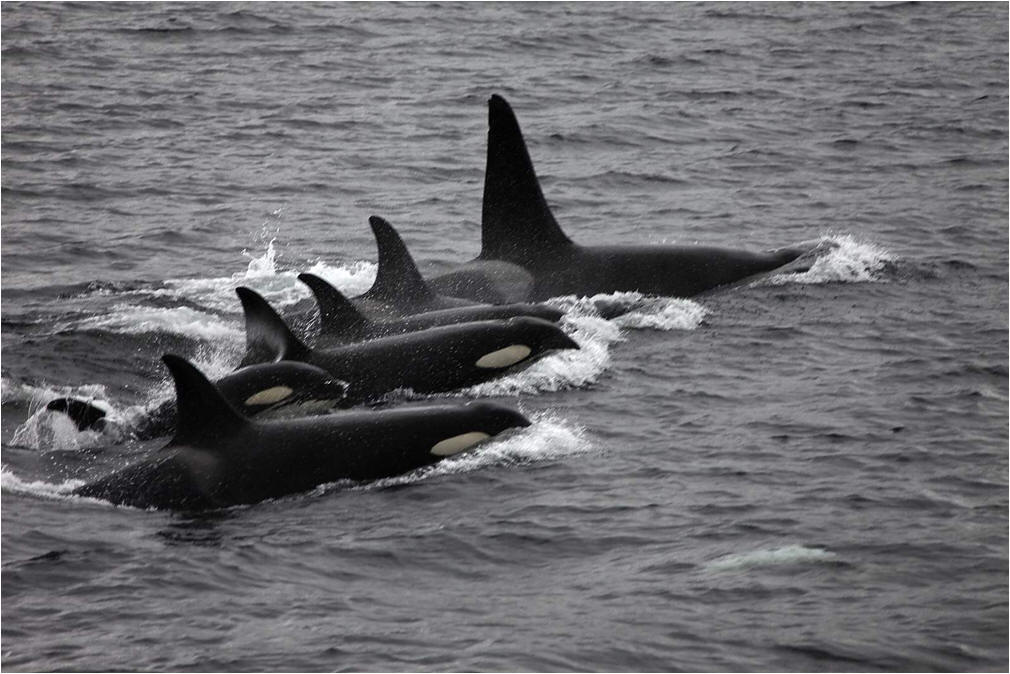 There was always something exciting to see; these are Orcas; the male has the big fin. Our stops included Port McNeil, Port Hardy, Ketchikan, Sitka, Kake, the Sawyer Glacier in Tracy Arm and Juneau. (We skipped Glacier Bay, as we had been there on a previous trip.)
From Juneau we took the great circle route to Japan which took us north of the Aleutian Islands in a North Westerly direction, close enough to Dutch Harbor to be worth a visit.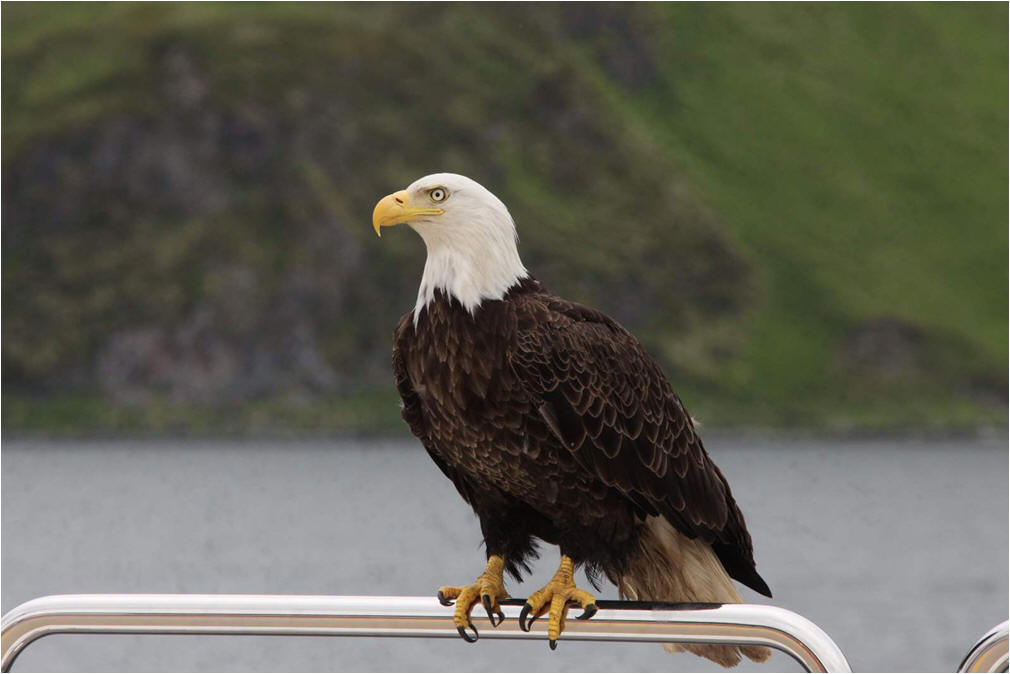 American Bald Eagles put on a spectacular 4th of July show for us. This eagle is on our helideck railing.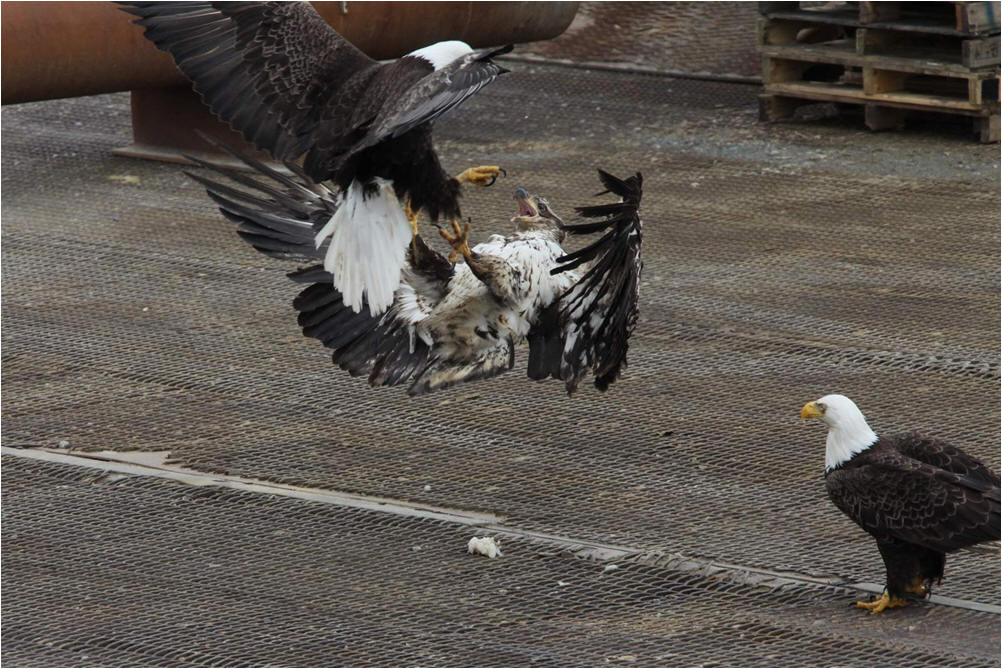 Notice that one of these eagles is on his back.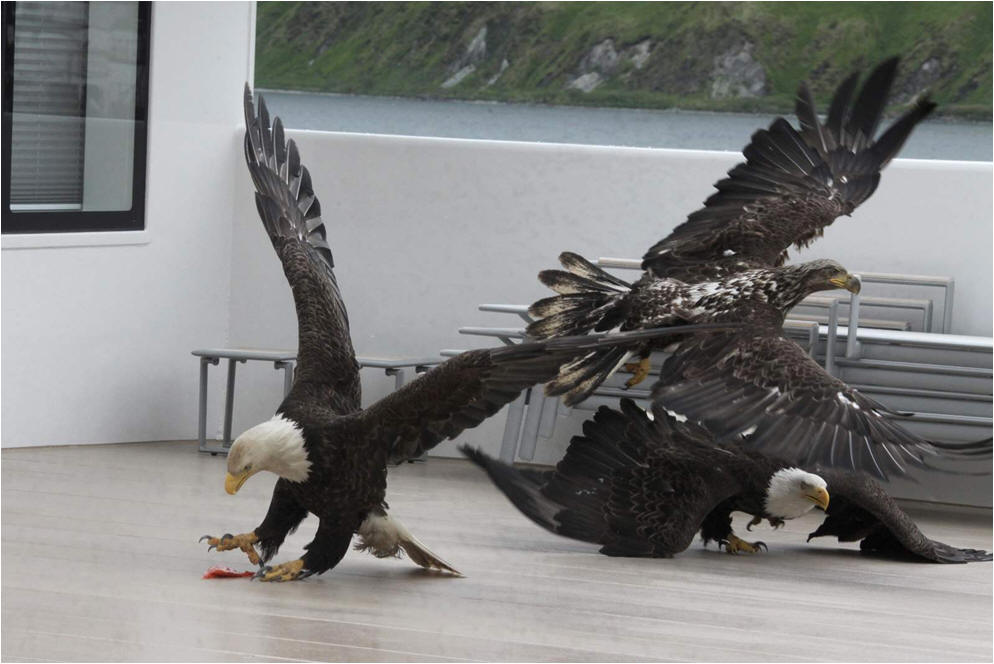 This eagle is on our helideck.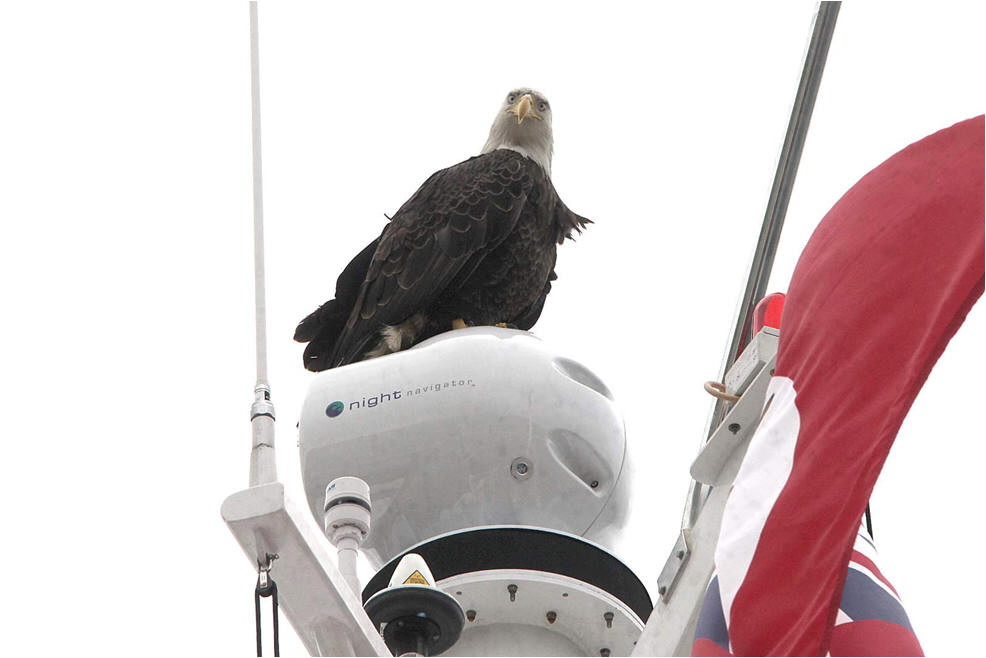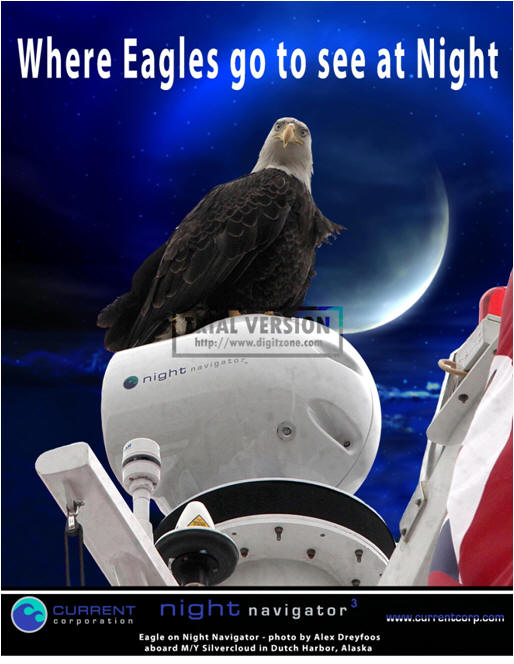 This shot prompted an ad.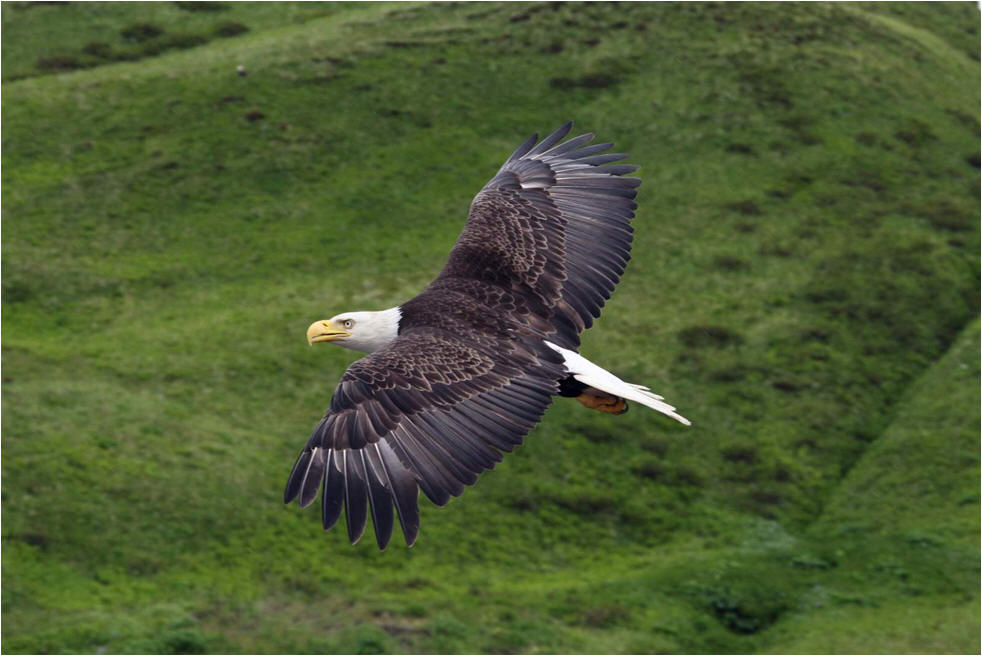 This, I think, is beauty in motion!
We stopped at Adak as the great circle route crossed the Aleutian Islands a second time, this time as we were heading South West; it's a dreary place.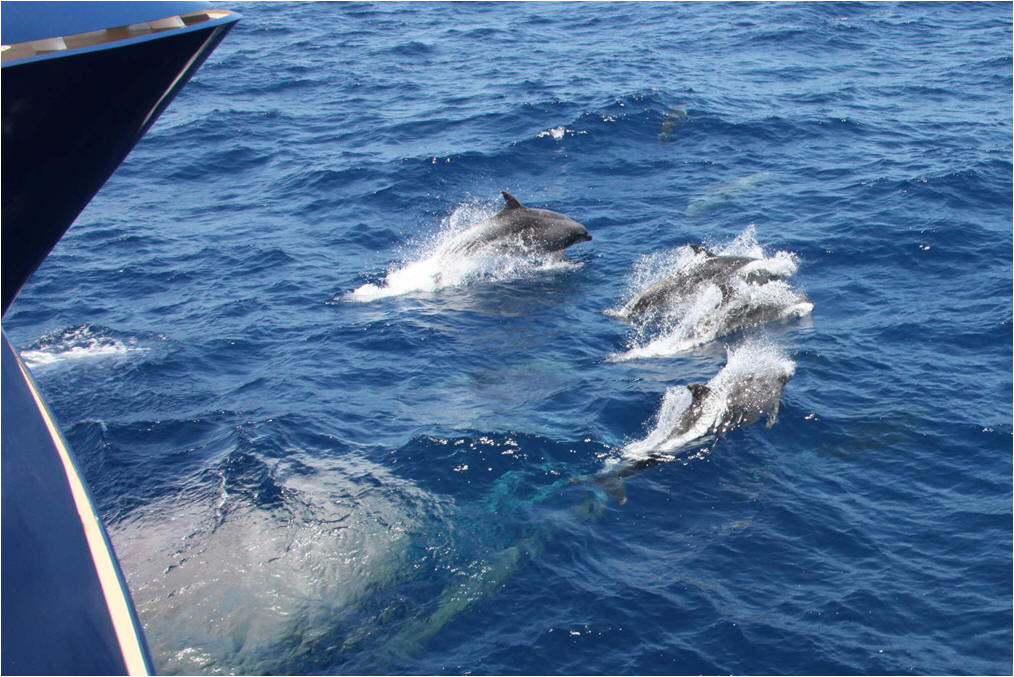 Porpoises love Silver Cloud's bow pressure wave. I count 12 porpoises in this image and there were probably an equal number at the starboard bow's submerged hull. Always entertaining!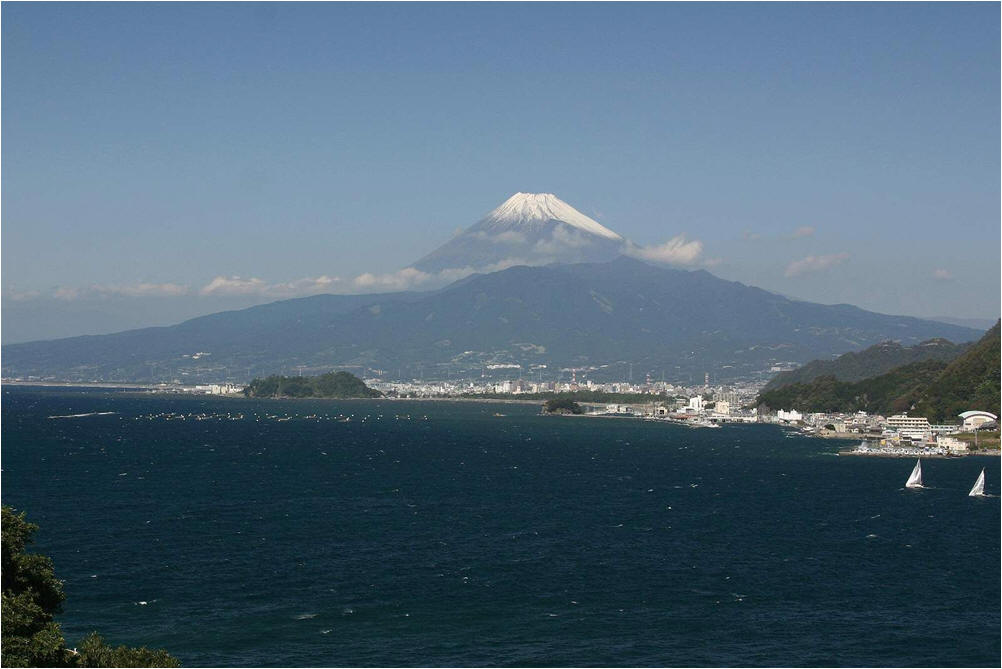 This is Japan's Mt Fuji. A Kiwi live-aboard guide, fluent in Japanese and well familiar with our 15 ports of call, spent 6 weeks with us as we cruised most of Japan south of Tokyo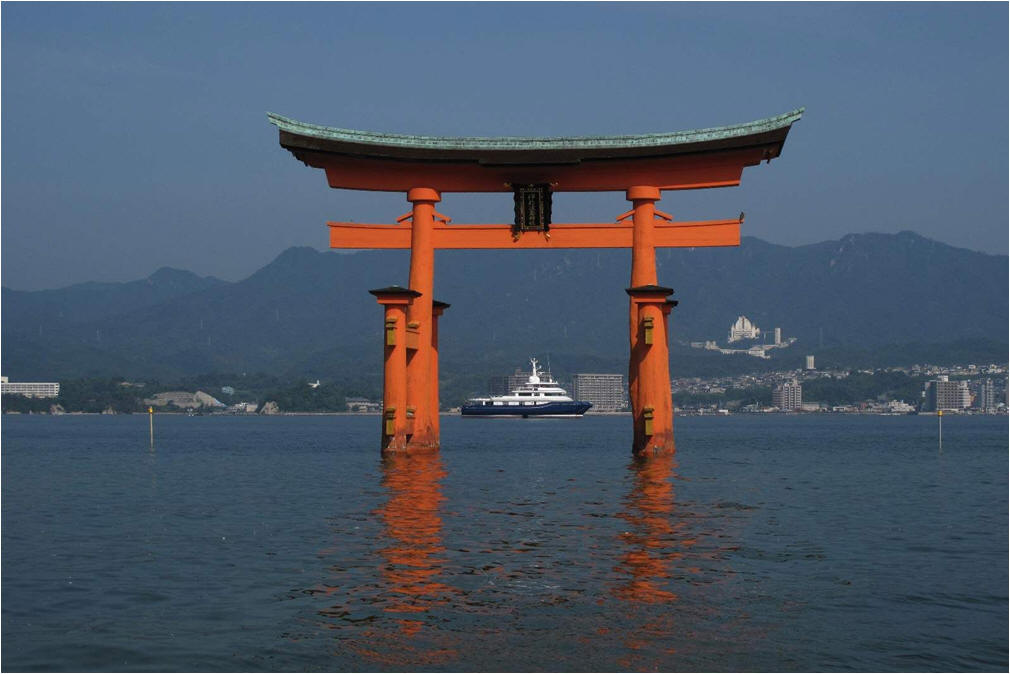 This image is of the famous Otorii Gate leading to the Shinto shrine on Miyajima Island. It's in shallow water, and when the tide is out, one can walk there.
While we saw places that any tourist might visit, we never had to pack a bag or sleep in a strange bed (or on floor mats). We only ate Japanese food when we chose to. Delightful!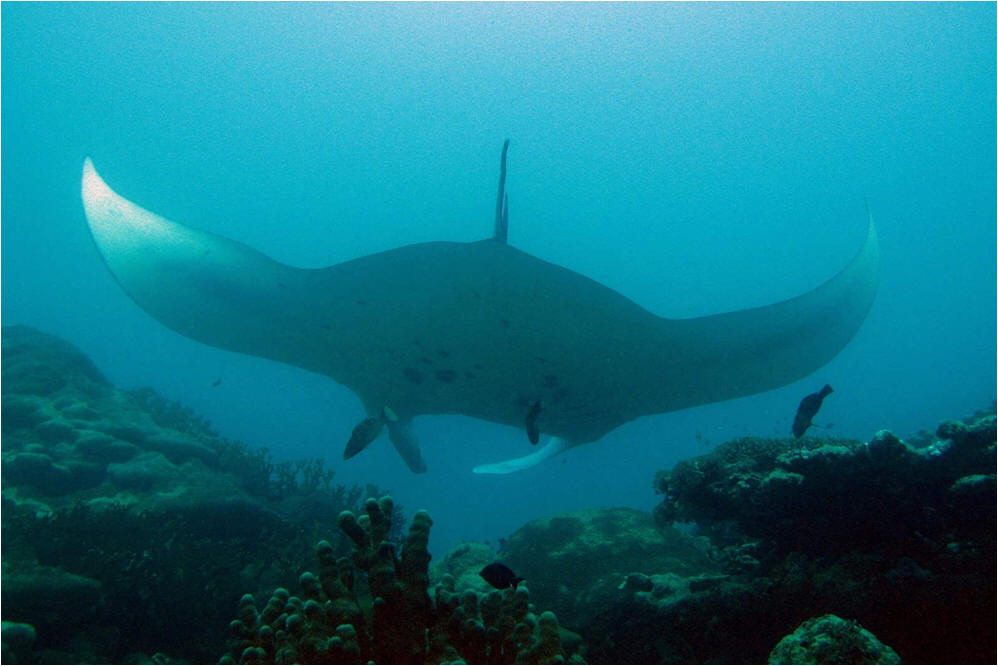 We spent several days scuba diving and seeing the sights in Okinawa, Palau and Yap. This manta ray, in the waters of Yap, was about 10-feet from tip to tip. The manta had come to a cleaning station to let small fish clean him up. We were told, that if we lay quietly on the bottom and were patient, they'd come by – and they did.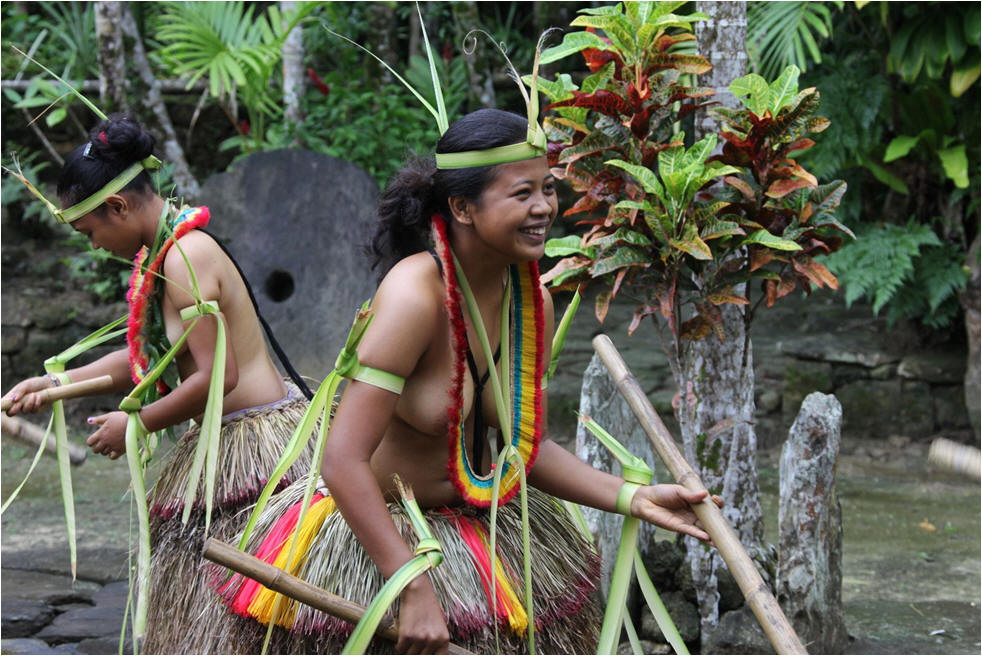 We saw these native dancers in Yap, an island in the Caroline Islands of the western Pacific Ocean. We were told that at one time, circular stones similar to the one you can see in the background, were used as money.

From Yap we proceeded to the islands along the North East coast of Papua New Guinea where we spent 4 weeks, with a live-aboard, author-dive master-guide.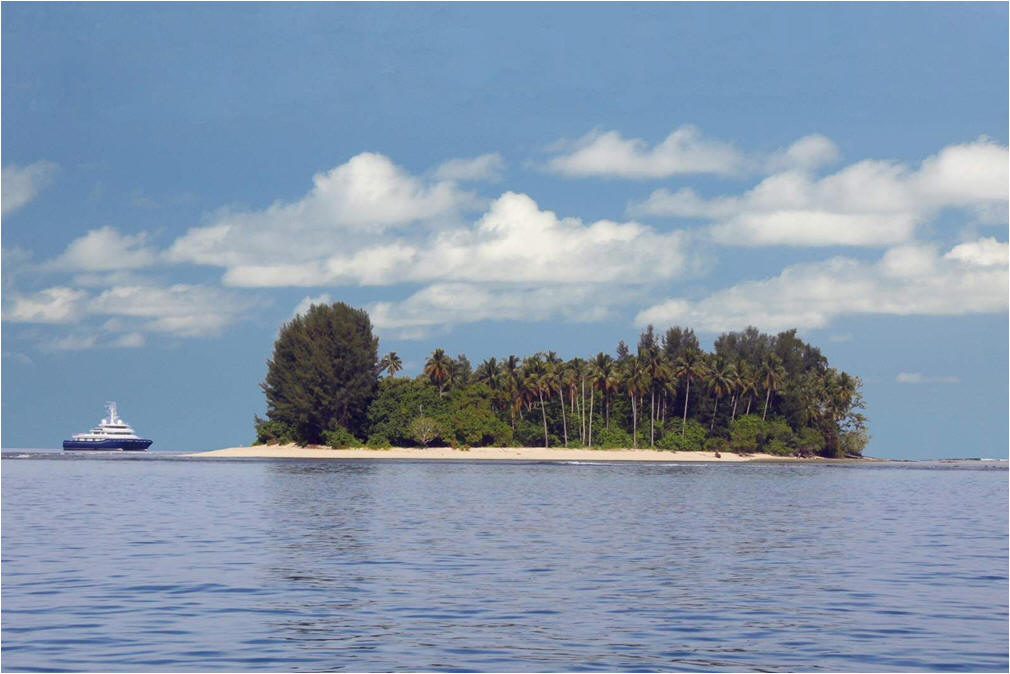 This is the Robinson Crusoe like island of Edmago.
These are purple sea squirts. They are quite unique. I thought they looked like little shoes. They are about 4-inches long and attached to the sea bottom. They pulse water from their two ports.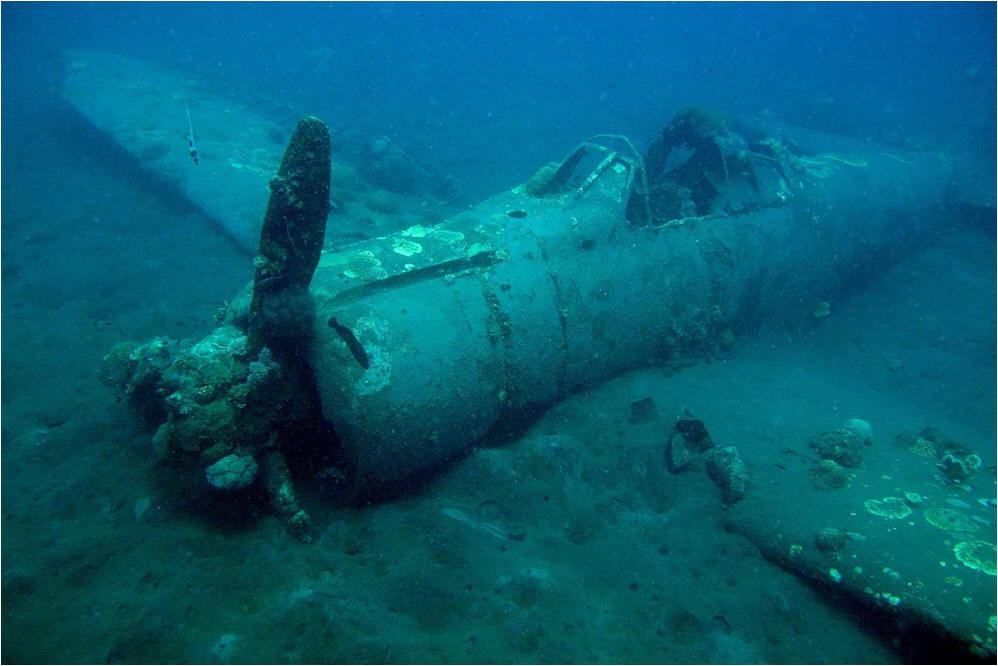 This well preserved Japanese 'Zero' was one of many World War 2 aircraft we dove on. Our time in Papua New Guinea was my favorite part of the trip; both on land and underwater.
Our next ports of call were Cairns, Australia, the Great Barrier Reef and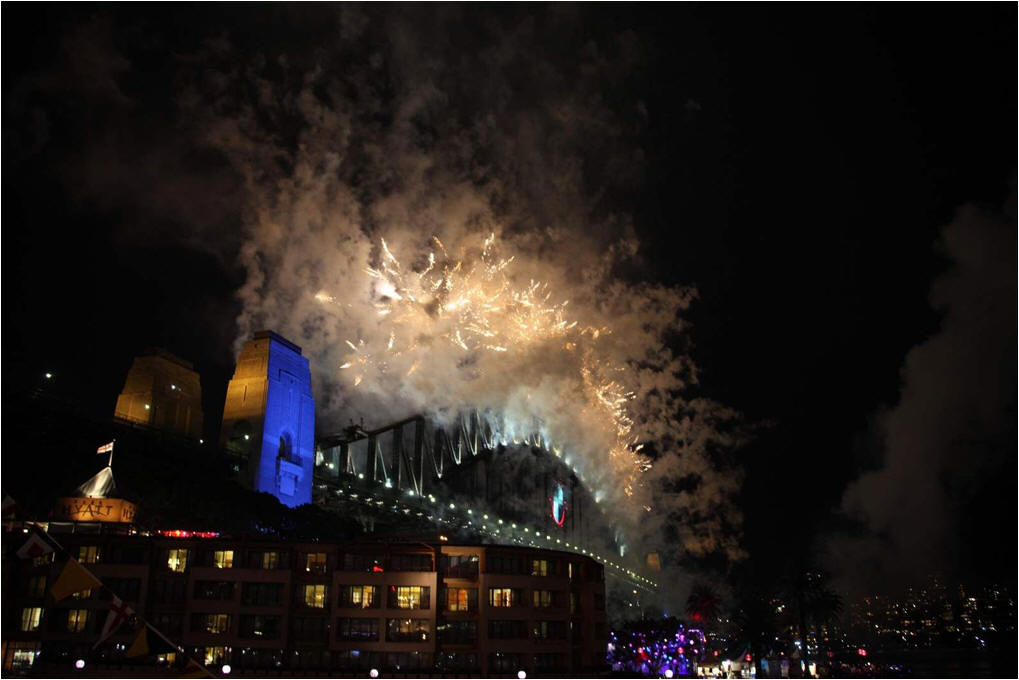 Sydney harbor where, for a month, we berthed adjacent to the famous Sydney Harbour Bridge and directly across from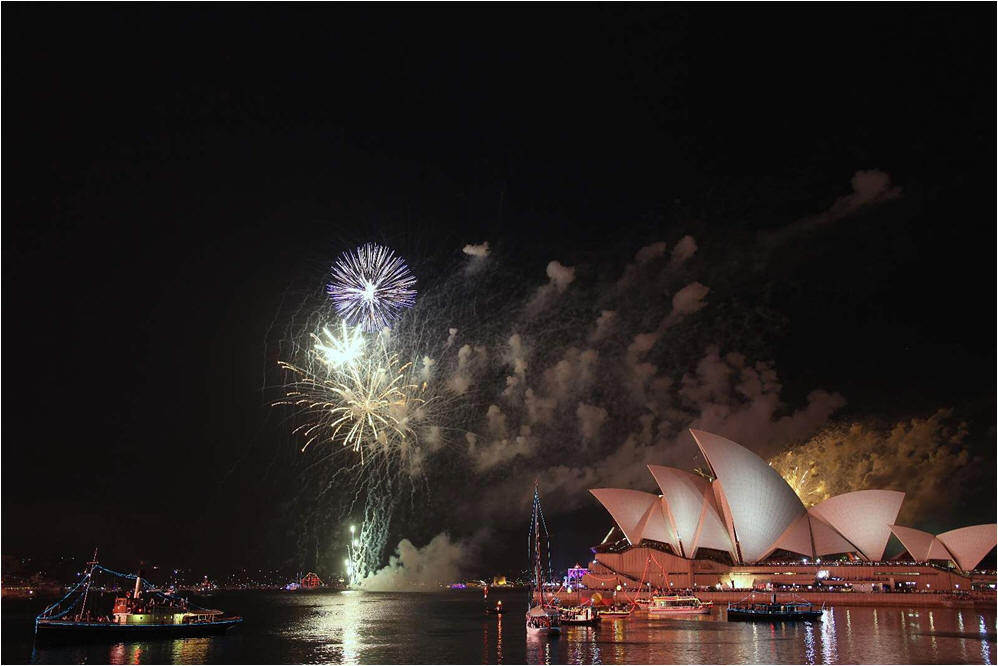 the Sydney Opera house. We enjoyed a magnificent New Year's Eve fireworks display.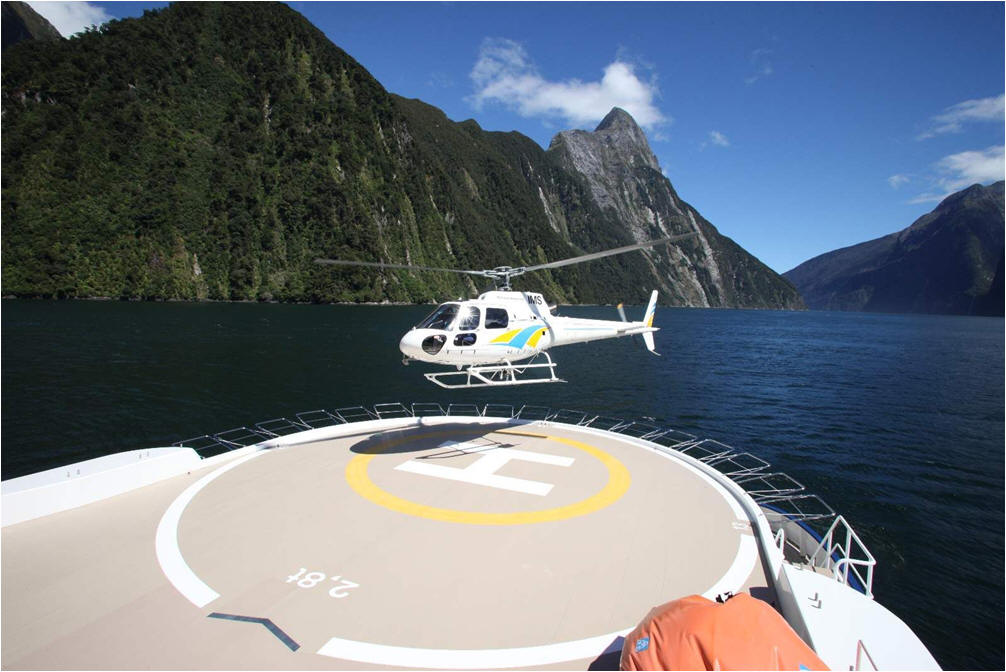 Silver Cloud's helideck, which fully meets Germany's Bureau Veritas': "Recommendations for helicopter landing areas on passenger ships" coupled with the SWATH's stability, is a helicopter pilot's delight.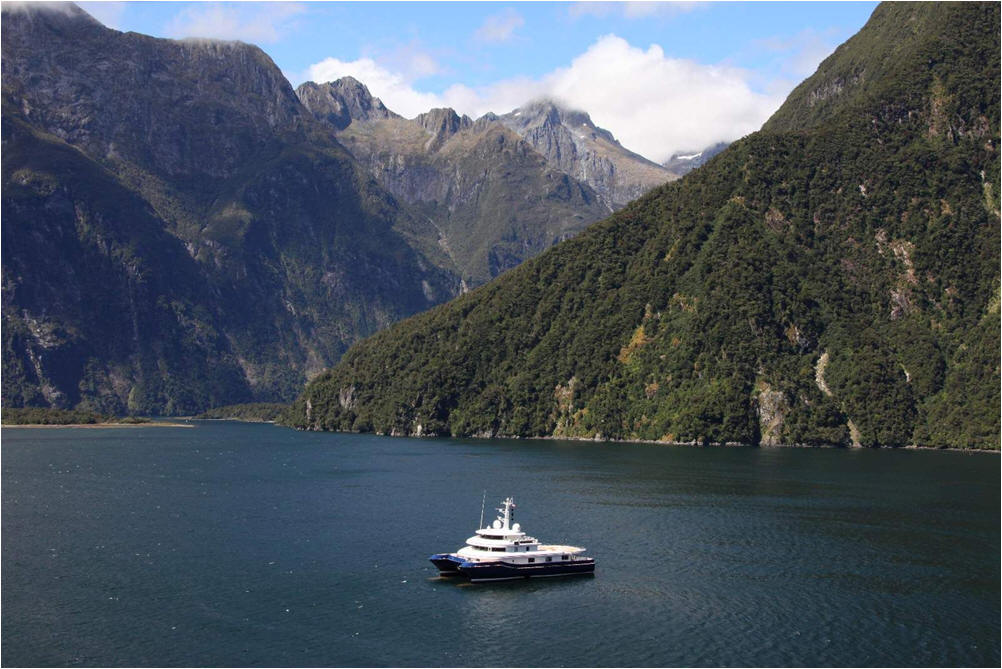 Seeing the beauty of New Zealand's Milford Sound from the air was a highlight of our odyssey.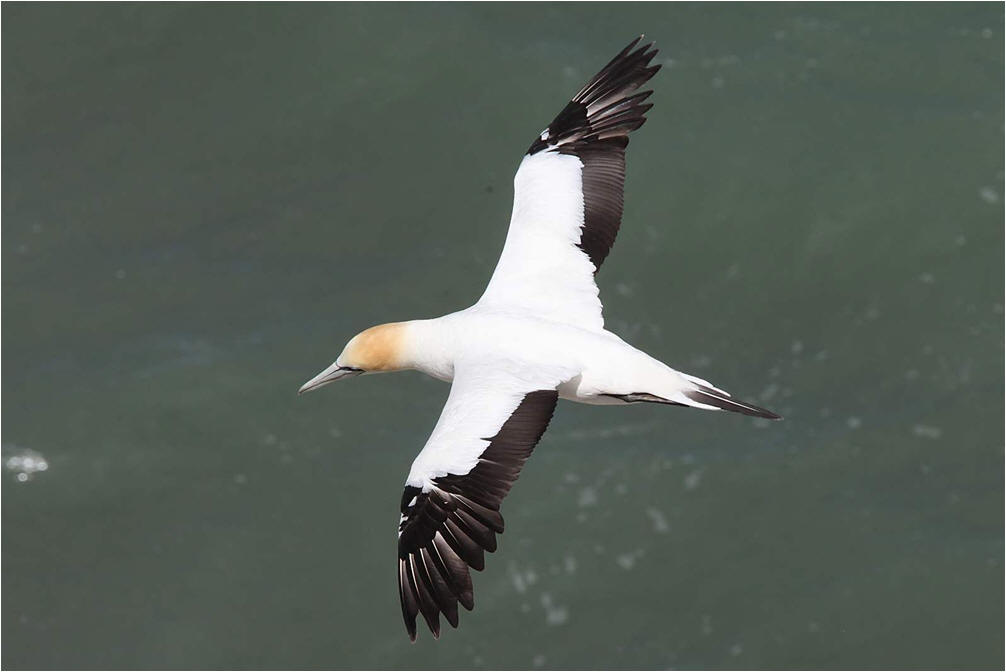 I like taking pictures of birds taken from above, but one doesn't often get a chance to do that. There was a gannet rookery on a rock pillar in New Zealand. We were on high ground above it and were able to get some good shots - the eggs were just hatching.
After spending 6 weeks circling most of New Zealand, we had planned to continue heading west along Australia's southern coast to the Seychelles, Cape Town and back to the Canary Islands thus fully circumnavigating the world. Unfortunately, with the pirates now controlling the waters around the Seychelles, it was not to be. Instead, we headed north east to Fiji, Bora Bora and Tahiti. Except for the loss of circumnavigation bragging rights, we were not disappointed.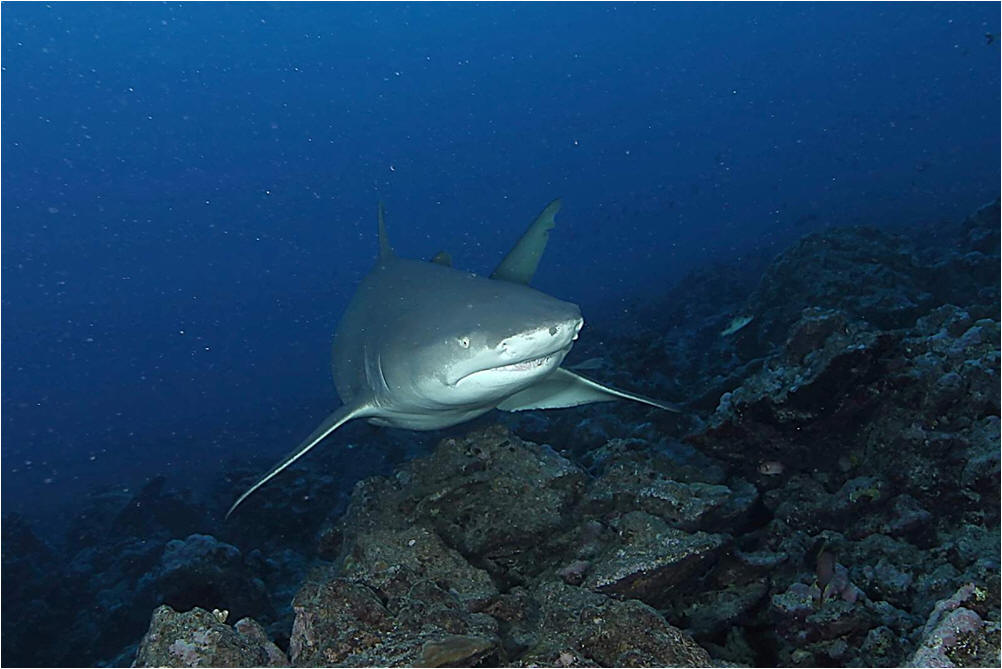 This Gray Reef Shark was curious, but he kept his distance.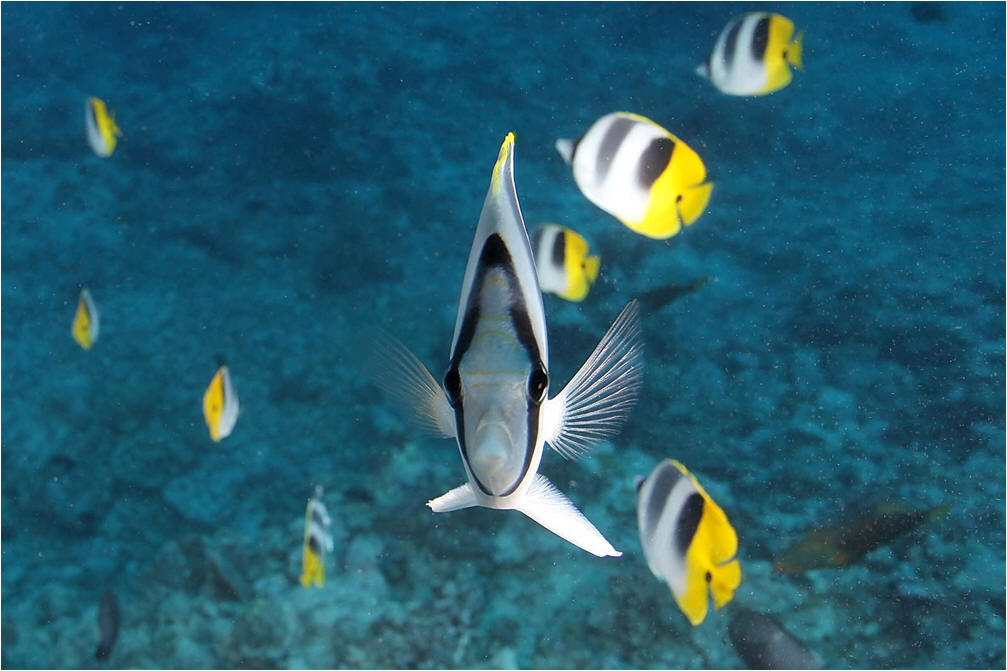 This double saddle butterfish liked my camera. The diving was great.
We next took advantage of Silver Cloud's long legs and made the 3,541 NM passage from Nuku Hiva to San Cristobal in the Galapagos Islands.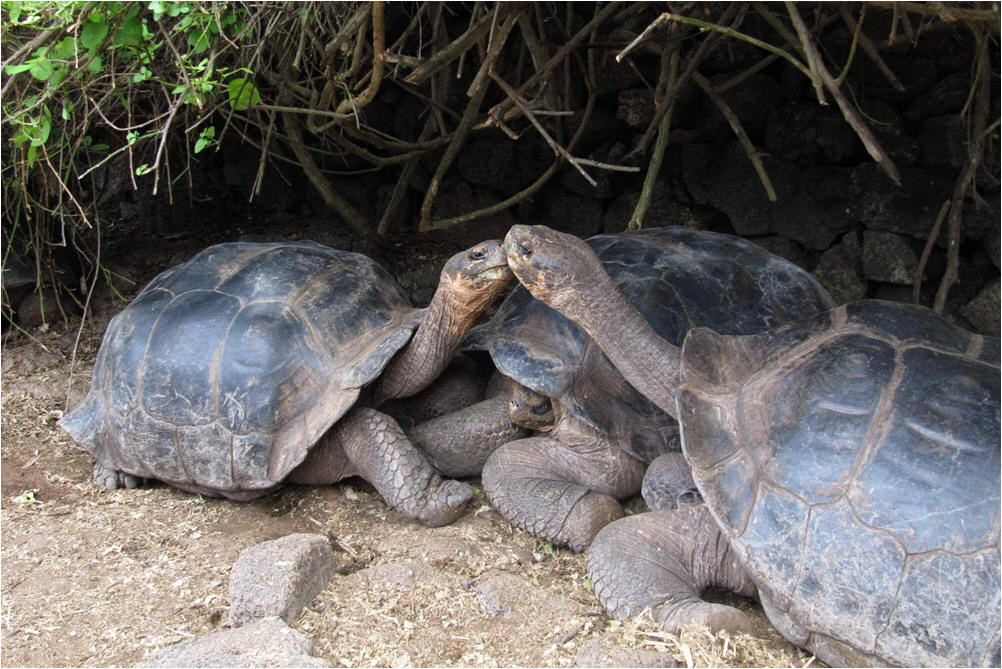 I've titled this photo of giant tortoises: 'Kissing cousins'.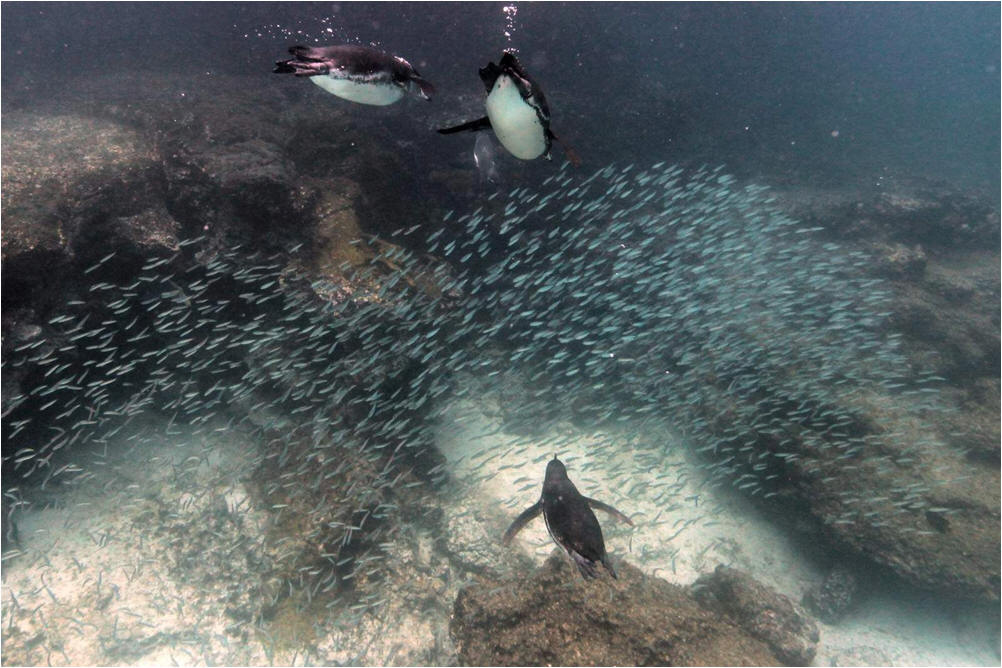 The Galapagos penguins, which walk so awkwardly on land, move with the agility of a seal when they are feeding underwater.
After a week in the Galapagos Islands we spent a few days fishing at Tropic Star Resort in (Peen-yuh-z) Pinas Bay on Panama's SW coast. Our last ports of call were Panama City, the Panama Canal and Palm Beach, 19 months after taking delivery of Silver Cloud.